Click here -> to return to the opening page or to exit
Multiple Companies are Supported
Menu Path: MAINT/Select Company
32 companies with independent databases are supported.


Screen 1
ê

Screen 2 -- Select Company
For multi-user systems --

If you are generating a new company, all other workstations must be at the MAIN MENU, so that blank databases can be established for the new company.

32 companies are supported-only the first 16 are displayed in screen 2. PGDN (Page Down) will display the other 16 companies as shown below.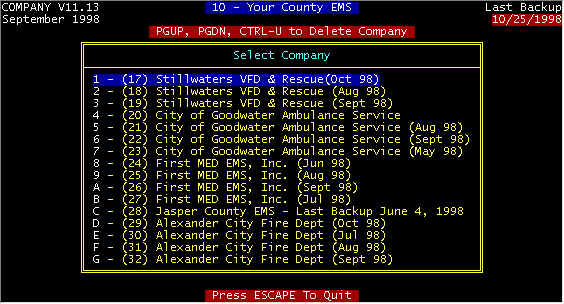 Screen 2 -- Select Company
In screen 2, extra unused companies may be used for several purposes as follows:
After making the end of month backup diskette(s), this diskette can be restored in one of the last 16 companies as shown-this ensures that the backup was successful on a readable diskette.

If you will then edit the company name to add the month and date, you have old archived data to which to refer for claims not on the active databases.

You can generate a "DUMMY" company, and then restore a previous backup diskette to train, experiment, practice, etc. without affecting "real" data
When you are logged into a specific company:
All data entry, report generation, electronic claims, general ledger transactions, patient files, post charges, etc. affect the databases for only the logged in company.

Backup data files will only backup data files for the logged in company.

Restore data files will erase (actually overwrite) all data files for only the logged in company, and transfer the data files on the floppy diskette to only the logged in company. In other words, all database files on the floppy diskette will replace the database files on the hard disk for only the logged in company.
Always be sure that the correct company is logged in before entering any data or performing any functions as each company works independently of each other. Only the data base files for the company shown are affected by any functions performed. Be sure to do a daily backup, period closeout and cleanup, and yearly closeout for each company.