Click here -> to go to the Table of Contents
Alabama State Prevailing Fee Screens
ALS Method 2 BLS Method 4 --- 1995 and later
(click here for HCFA billing methods 1 thru 4)

Nationwide, each January 1st, fee screen IICs for each HCPCS code are increased by the previous year CPI-U (Consumer Price Index - Urban), and this ranges from 1-3 percent unless there is either a freeze or some other congressional reduction. What this means to you is that each year your Medicare allowed amount for each charge (A0330 base rate, A0390 mileage, e.g.) you bill will be increased by the IIC percent increase. Your Medicare allowed amounts will be the lesser of your IICs or what you actually bill. For the fee screen years below, the percent increases are listed.
Alabama 2000
(2.0% increase above 1999)
Procedure
Code

75th
Percentile

50th
Percentile

Prevailing
IIC

A0324

325.00

275.00

130.42

A0326

400.00

365.00

270.98

A0328

415.00

360.00

270.98

A0330

430.00

375.00

270.98

A0360

250.00

225.00

103.28

A0362

250.00

250.00

131.98

A0380

5.00

5.00

2.64

A0382

40.00

35.00

28.35

A0390

5.25

5.00

2.64

A0422

40.00

40.00

26.40
Alabama 1999
(1.1% increase above 1998)
Procedure
Code

75th
Percentile

50th
Percentile

Prevailing
IIC

A0324

330.00

250.00

127.86

A0326

400.00

365.00

265.67

A0328

415.00

325.27

265.67

A0330

425.00

375.00

265.67

A0360

250.00

175.00

101.25

A0362

250.00

250.00

129.39

A0380

5.00

4.00

2.59

A0382

40.00

35.00

27.79

A0390

5.00

5.00

2.59

A0422

40.00

35.00

25.88
Alabama 1998
(1.3% increase above 1997)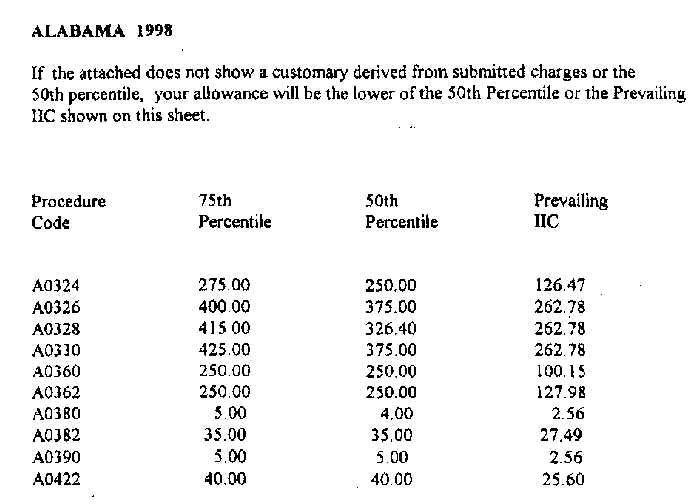 Alabama 1997
(2.8% increase above 1996)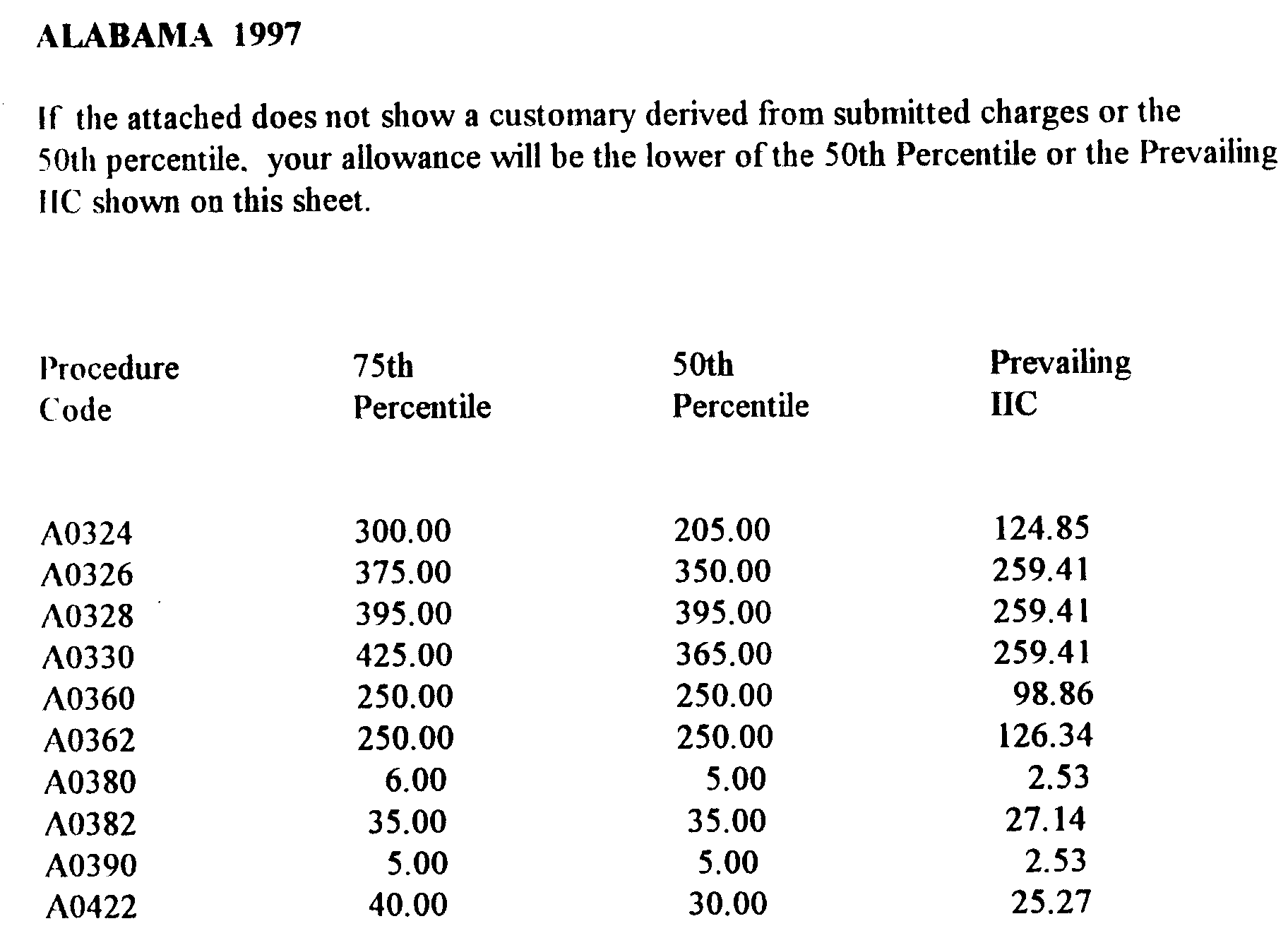 Alabama 1996
(3.0% increase above 1995)
| | | | | | | | |
| --- | --- | --- | --- | --- | --- | --- | --- |
| Code | 50th% | 75th% | IIC | Method | BLS/ALS | E/NE | Description |
| A0324 | 212.67 | 248.04 | 117.91 | 2 | ALS | NE | SUPP INCLUDED, MILEAGE BILLED |
| A0326 | 320.00 | 397.94 | 244.99 | 2 | ALS | NE | SPEC ALS, SUPP INC, MILE BILLED |
| A0328 | 320.00 | 397.94 | 244.99 | 2 | ALS | E | SUPP INCLUDED, MILEAGE BILL |
| A0330 | 320.00 | 397.94 | 244.99 | 2 | ALS | E | SPEC ALS, SUPP INC, MILE BILLED |
| A0360 | 175.00 | 200.00 | 93.37 | 4 | BLS | NE | MILEAGE AND DIS SUPP SEP BILL |
| A0362 | 150.00 | 200.00 | 119.32 | 4 | BLS | E | MILEAGE AND DIS SUPP SEP BILL |
| A0380 | 4.00 | 5.00 | 2.39 | 4 | BLS | | BLS MILEAGE PER MILE |
| A0382 | 25.00 | 35.00 | 25.63 | 4 | BLS | | BLS ROUTINE DISP SUPPLIES |
| A0390 | 4.00 | 5.00 | 2.39 | 2 | ALS | | ALS MILEAGE PER MILE |
| A0422 | 35.00 | 40.00 | 23.86 | 4 | ALS\BLS | E | OX AND OX SUPP LIFE SUST SITU |
Alabama 1995
| | | | |
| --- | --- | --- | --- |
| Code | 50th% | 75th% | IIC |
| A0010 | 150.00 | 165.00 | 116.41 |
| A0020 | 4.00 | 4.00 | 2.33 |
| A0070 | 30.00 | 40.00 | 23.28 |
| A0150 | 150.00 | 150.00 | 90.06 |
| A0215 | 25.00 | 25.00 | 25.75 |
| A0220 | 275.00 | 295.00 | 221.18 |
| A0221 | 4.00 | 4.00 | 2.33 |
| A0222 | 150.00 | 150.00 | 93.13 |
| A0223 | NC | NC | NC |